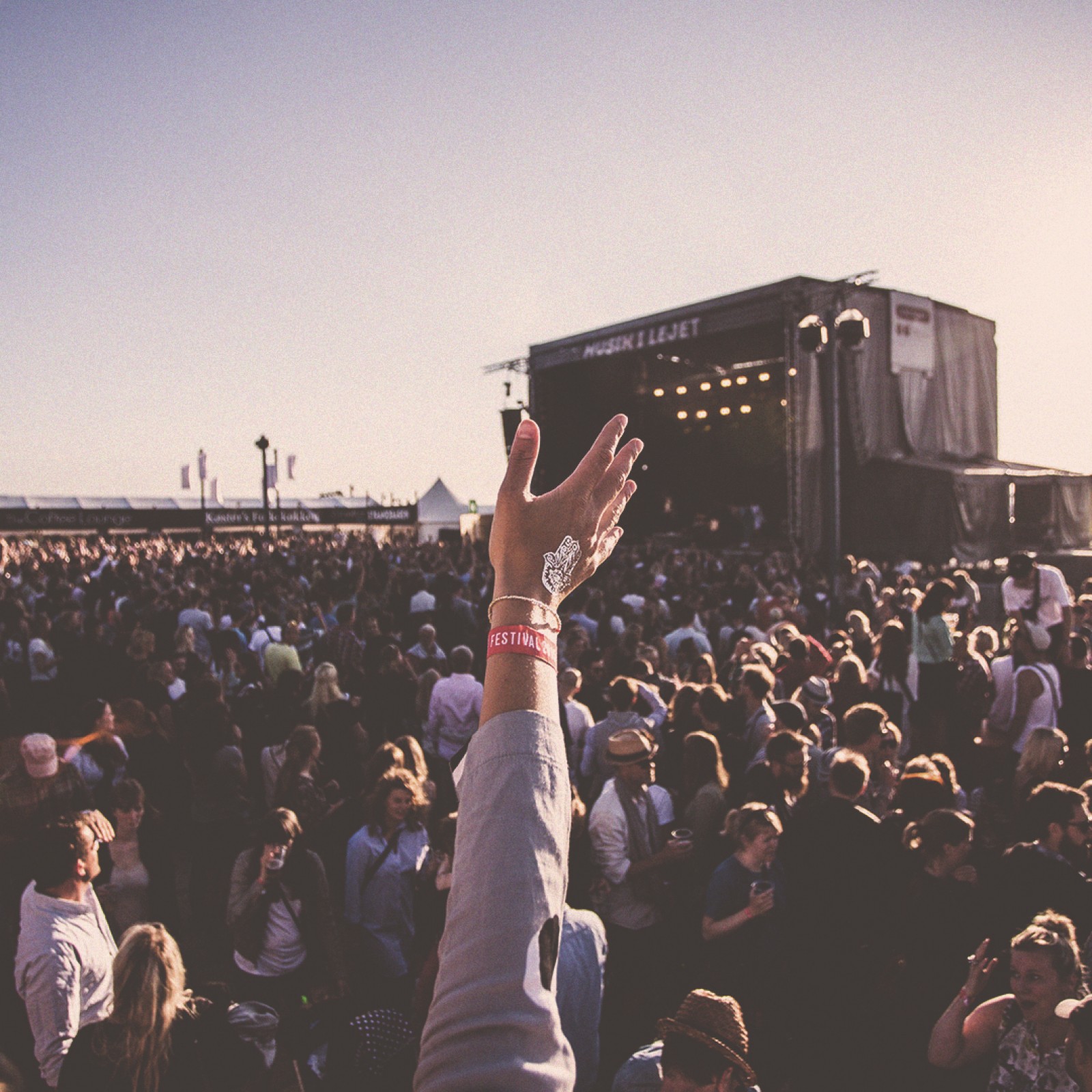 HVEM ER VI?
Musik i Lejet er sommerens højdepunkt i Tisvildeleje. Festivalens tre dage præsenterer de toneangivende tendenser inden for musik, kunst og gastronomi. Alt sammen i Tisvildelejes billedskønne omgivelser.
Musik i Lejet ligger sidste stop før Troldeskoven og strandkanten. Festivalens tre scener danner rammen for både helt dugfriske talenter og større folkekære artister. Kunsten præger festivalpladsens udtryk med farverige vægmalerier og installationer. Gastronomien er sat i højsædet med alt fra lokale flæskestegssandwich til asiatisk streetfood. Alt sammen kan ske med sand mellem tæerne og synet af badene gæster i Kattegat.
MUSIK I LEJETS HISTORIE
Det hele begyndte i 2009, hvor tvillingerne Andreas og Kristian Grauengaard sammen med to veninder fik en rigtig god idé. De ville skabe en fest i deres hjemby, hvor gamle venner kunne mødes, lytte til god musik og nyde hinandens selskab og samtidig bidrage til udviklingen af Tisvildeleje.
Festivalen blev første gang afholdt på Stejlepladsen i Tisvildeleje og afviklet og løftet af 100 venner og bekendte. Her kom ca. 700 mennesker forbi festivalen for at nyde en kold øl, fællesskabet og høre de 16 forskellige bands, der spillede over de 3 dage. Derfra voksede festivalen støt de efterfølgende år. I 2011 udvidede Musik i Lejet med en scene til natkoncerter og i 2013 rykkede festivalen fra Stejlepladsen og ned til stranden. Det var også i dette år, at der for første gang blev opkrævet en entré til festivalen, der nu havde 36 optrædende bands. I 2014 kunne Musik i Lejet fejre 5 års jubilæum og havde dette år ca. 5.000 betalende gæster og ca. 900 frivillige. Interessen for højsommerens strand- og musikfest spredte sig vidt, og i 2016 vandt Musik i Lejet Politikens "Ibyen pris" som Årets Festival. I 2017 gæstede 10.000 mennesker Musik i Lejet, der havde 40 optrædende bands og 1.500 frivillige til at løfte festivalen. Dette blev også året, hvor Musik i Lejet havde sit største overskud nogensinde på knap 300.000 kr., der blev uddelt til 18 lokale foreninger.
I 2017 valgte de to brødre at gå nye veje og stifte Good Boys Agency. Good Boys Agency løser en række forskellige opgaver inden for eventplanlægning og afvikling for private og offentlige aktører. Foreningen Musik i Lejets bestyrelse har siden valgt at engagere Good Boys Agency til at varetage den professionelle projektstyring og drift af festivalen.
Musik i Lejet har på sine 13 års levetid opnået en stærk position på det danske festival-marked. Mange nye festivaler er kommet til inden for de seneste år. Ikke desto mindre markerede festivalens popularitet sig, da 2018 billetsalget satte noget nær danmarksrekord. På mindre end 30 minutter blev alle festival-billetterne revet væk. Dette skete uden, at Musik i Lejet havde offentliggjort et eneste navn til programmet. Til 2019-billetsalget oplevede Musik i Lejet samme enorme interesse med udsolgt på alle billetter på få minutter.
TIDLIGERE MUSIKPROGRAMMER
MiL19: DISCLOSURE DJ SET (UK) x HANS PHILIP x NIK & JAY x PHLAKE x SØREN HUSS x YXNG BANE (UK) x ALEX VARGAS x EA KAYA x DUCKWRTH (US) x LAID BACK x KARL WILLIAM x SELMA JUDITH x MARVELOUS MOSELL x DEN SORTE SKOLE (DJ SET) x AV AV AV x PETER SOMMER OG TIGGERNE x PERNILLE ROSENDAHL x KOPS x REYKJAVÍKURDÆTUR (IS) x EMIL KRUSE x FIRST HATE x ALEXANDER OSCAR x THE MAUSKOVIC DANCE BAND (NL) x LOWLY x PALACE WINTER x NICKLAS SAHL x WIINSTON x THE WILLIAM BLAKES x ARTIGEARDIT x PEDE B x LOVE SHOP x HJALTE ROSS x RAVI KUMA x GULDIMUND x FREJA KIRK x SIMON LITTAUER x DJ ER DU DUM ELLER HVAD & TOMAS BARFOD x EMIL LANGE x LUNATIC x JOKEREN x ROCAZINO x THE PARTY x LARSENS BEDSTE x DE STIVE SØMÆND FEAT. KAREN-MARIE LILLELUND x DJ DEGN x MOODY x NIKOTION x SNAKES IN AUGUST
MiL18: JUNGLE (UK) x THE MINDS OF 99 x J HUS (UK) x KESI x HAYDEN JAMES (AUS) x SCARLET PLEASURE x CHINAH x C.V. JØRGENSEN x BIKSTOK x TOM TRIPP (UK) x TURBOWEEKEND x BENAL x WHEN SAINTS GO MACHINE x NELSON CAN x DAGNY (NO) x DREW x MARIE KEY x ICEAGE x ANALOGIK x CARL EMIL PETERSEN x DJ D.E.D.D.E.H. & TOMAS BARFOD x IRIS GOLD x UFFE LORENZEN x JADA x YANGZE x MAXIMILLIAN x KELLERMENSCH x FOOL x FUGLEFLUGTEN x BARSELONA x ZAPP ZAPP x KASPAR KAAE x M.I.L.K. x AKSGLÆDE x LOLA x BRYNJOLFUR (FO) x TAKO LAKO x DJ ARY x JULIUS SYLVEST x HALBERG & FRIENDS x HUMØREKSPRESSEN x FEINSCHMECKER x DE STIVE SØMÆND FT. KAREN MARIE LILLELUND x DJ DEGN
MiL17: MEW x WHOMADEWHO x SUSPEKT x KARL WILLIAM x ASTRID S (NO) x RAYE (UK) x R.LUM.R (US) x THOMAS DYBDAHL (NO) x MADS LANGER x ALMA (F) x AV AV AV x BISSE x MEDINA x FOLKEKLUBBEN x LORD SIVA x CHOIR OF YOUNG BELIEVERS x COMMUNIONS x BLONDAGE x IRAH x LIIMA x THE ENTREPRENEURS x PEDE B & DJ NOIZE x SOLEIMA x KATINKA x SIMON DOKKEDAL x KENTON SLASH DEMON (DJ) x GENTS x BLUE FOUNDATION x VINNIE WHO (DJ) x FRANSKE PIGER x SILVESTER x SCHOOL OF X x JONAH BLACKSMITH x SKAMMENS VOGN x D/TROIT x TUESDAY NIGHT BRASS BAND x FRIBYTTERDRØMME x LYDMOR x CODE WALK x LEIF SYLVESTER & FRIENDS
MiL16: SKOUSEN & INGEMANN x NIKI & THE DOVE (SE) x TURBOWEEKEND x CHINAH x SAVEUS x SG LEWIS x SIVAS x LISS x ROOSEVELT (DE) x BLAUE BLUME x PHLAKE x BENAL x LIGHTWAVE EMPIRE x BATIDA (PT) x CODY x VELVET VOLUME x DIZZY MIZZ LIZZY x PER VERS x IBRAHIM ELECTRIC x KRISTIAN LETH x MAMES BABEGENUSH x LOWLY x PALACE WINTER x DE UNDERJORDISKE x ESBEN JUST TRIO X MASASOLO x TÅRN x BISSE x GUNS (NO) x MNEK x ALEX VARGAS x THE RUMOUR SAID FIRE x BENAL x KAKKMADDAFAKKA x VAULTS x WAA INDUSTRY x ELOQ x CHRISTIAN D'OR x TEITUR x KASPER BJØRKE x DJ WHUT - JASON RIVERA
MiL15: BIKSTOK x UKENDT KUNSTNER x THE MINDS OF 99 x SOHN (UK) x JUNIUS MEYVANT (IS) x SCARLET PLEASURE x NAO (UK) x VINNIE WHO x RANGLEKLODS x AV AV AV x ULIGE NUMRE x THRKNGS x THE SAVAGE ROSE x JOOKS x LAID BACK x TOMAS BARFOD x THE ATTIC SLEEPERS x HYMNS FROM NINEVEH x KENTON SLASH DEMON x KWAMIE LIV x JACOB BELLENS MED BAND x KENTAUR x CANCER x KATOLYSIK x D/TROIT x HEIMATT x HALVKNÆGTEN x IDA WENØE x LIVE JIVE JUNGLE x GYPSY VENDETTA x EMIL LANGE x OH BOY! x JULIUS SYLVEST x LADYBOX x FYRAFTENSBOOGIE x DISKANTLYD
MiL14: JENNY WILSON x WHEN SAINTS GO MACHINE x OH LAND x CHOIR OF YOUNG BELIEVERS x TURBOWEEKEND x REPTILE YOUTH x CHRISTIAN HJELM x EMILIE NICOLAS x CHORUS GRANT x ØNSKEØEN x MARVELOUS MOSELL x MADS BJÖRN x THE MOUNTAINS x TAKO LAKO x JULIAS MOON x RING THEM BELLS x BLAUE BLUME x MONT OLIVER x NAVNELØS x KILL J x KARL WILLIAM x SHINY DARKLY x DE DØDELIGE x LOVESPEED x MOURITZ/HØRSLEV PROJEKTET
MiL13: THE WILLIAM BLAKES x LUCY LOVE x CODY x CANCER x CTM x DEN SORTE SKOLE x MARIE KEY x VINNIE WHO x INDIANS x SCHULTZ AND FOREVER x MIKAEL SIMPSON x TRAVELLING TRIBES x MUNCK/JOHNSON x MELLEMBLOND x KENTON SLASH DEMON x BOHO DANCER x THE MINDS OF 99 x KIRSTINE STUBBE TEGLBJÆRG x WALDO & MARSHA x GABRIEL x ICE CREAM CATHEDRAL x BABY IN VAIN x DANGERS OF THE SEA x MUND DE CARLO x PAULA NEWWOMAN
MiL12: MICHAEL MØLLER x FRIOM SARAH x MIKE SHERIDAN x STOFFER & MASKINEN x IGNUG x SPÖKET & MAMBES x COLORKALEIDO x KISS ME SCARLETT x CHORUS GRANT x FOLKEKLUBBEN x WE WERE BORN CANARIES x I GOT YOU ON TAPE x RANGLEKLODS x VAGN OLSSON x DØRGE-BECKER-CARLSEN x REUBEN HOLLEBON x DITBANDANDMITBAND x THE UNUSUAL HISTORY OF ETHER x JONAS BREUM x ULIGE NUMRE
MiL11: WHEN SAINTS GO MACHINE x WHO MADE WHO x AAGE JÆGER (DEN SORTE SKOLE) x ANDERS DIETZ x BELLE VILLE x SUNA x DANELL x LE KLIK x KAROLINE MUNKSNÆS x MARKENS MAFIA x PAPER TIGERS x M.A.N.D. FEAT MAMBE x SHANGHAI x SONG TO THE SIREN x UMATIC x THE OCTOBER COUNTY x DJ SACHA x WHY DON'T WE LOVE LUCY x BELAJ KRU x KATJA CONTINENTAL x DJ TIGERDISCO x UNDER THE SHERRY MOON x RAYBAN COALAS x BOBBY TSUNAMI x CHADORE x IN FRIDA
MiL10: SLAP BET COMMISSIONERS x SKÆVE TONER x BOMBSHELTER x LE KLIK x TURBOWEEKEND x MY NAME IS LEGION x LIEB LIGA x THE VABLES x PAULA x NEWWOMAN x KANDY KOLORED TANGERINE x JONAS BREUM x ANALOGIK VS. BO MARLEY x STIG MØLLER TRIO x DITBANDMITBAND x DANELL x CALA x NICKY x SCHMIDT BAND x KAROLINE MUNKSNÆS
MiL09: CHARLIE DROPS x ASHTIANI DROPS x KITTY SCOPE x JOOKS x PRINS NITRAM x DJ GABRIEL x CLASH OF YOU AND ME x KAROLINE MUNKSNÆS x DJ SAPIORI x CLAIR OBSCUR x MARIAMATHILDE BAND x MAMES BABEGANUSH x DAN MARMORSTEIN x DANELL x JJ AND THE GENTLE LADIES x RICARDOS JAZZMEN